From the moment he was born we fell in love with this sweet red & white boy.   Visitors were drawn to him,  to hold him,  to admire him.    Our 5 yr old grand daughter Alexis  picked him up as a tiny baby, declared him a "show kitten"  and christened  him  as her  "big fat kitty".   That name has stayed with him,   and around the house he is

" Big Fat Kitty".    When selecting his show name we kept the same rhythm to the name. 

Thus the name evolved ------Suavere's Bitafudge Cake. 

We are truly blessed to have this beautiful kitten born to our cattery.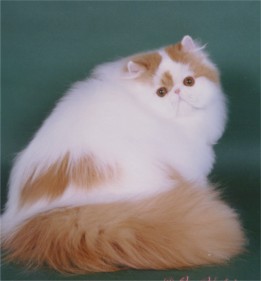 GC, RW  Suavere's  Bitafudge Cake

CFA Grand Champion

at 8 months of age in 9 rings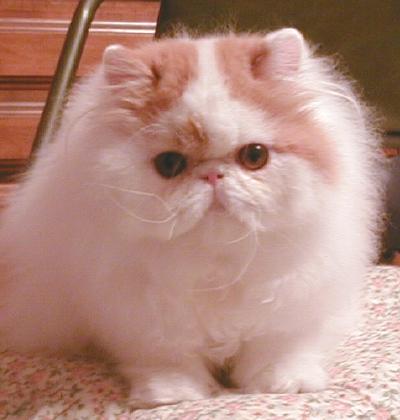 Pictured here at 5 months of age.

As a kitten he continued to develop,  to grow his beautiful coat,   and display his sweet disposition.    He attended  CFA shows and it was obvious he had the "show purrsonality".    Spectators and Exhibitors alike are drawn to his sweet doll baby face,  expressive eyes  and his loving disposition.    His kittenhood went by all too quickly and soon......

He turned 8 months old during the Christmas holidays.  His first show in Championship was the Wirehair Show in Elizabethtown Kentucky in early January 2003.    He earned his winners ribbons and became a CFA Champion.   In addition he was awarded Best Cat by CFA Judge Lynn Search.   What an honor!!!

In only 9 rings as a Champion he earned the title of

Grand Champion Suavere's Bitafudge Cake

This is our "Big Fat Kitty" at 8months of age,  as our newest Grand Champion.    

Our thanks to Jim Child,  the photographer who captured our beautiful boy in pictures.   

We continued to show him for the  short three months remaining of the  Show Season.   His awards include

Great Lakes Region 11th Best Cat  &

Best Bicolor Persian.  

He is  nationally 2nd Best Red/White Persian.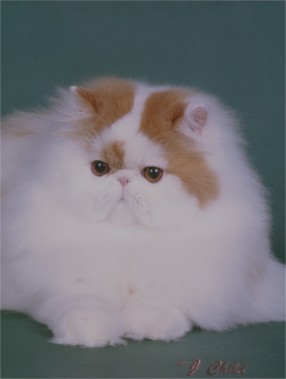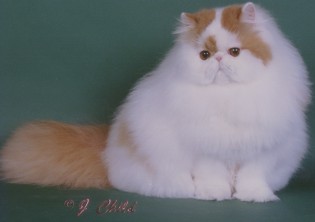 He does live up to his name.   He tops the scales at 11 lbs,   sweet expression,  wonderful top head,  great boning,  expressive  rich copper eyes.   Thank you Lord for this blessing.   He is siring beautiful kittens,  such as our

GC  Suavere's Shania and

GC Suavere's Fudge Twirl.

And our Toast to

THE PROUD PARENTS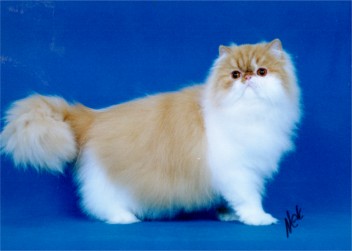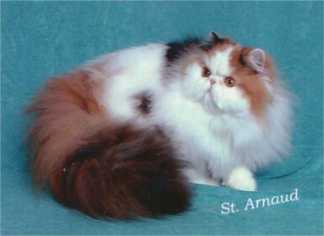 CH Konfettikat's Parfait of Suavere DM

Who has also given us:

GC Suavere's Kyrie

GC Suavere's Colors in the Snow DM

GC Suavere's  Sing Hosanna !!

GC Suavere's Chanel of Tambourine

CH Purrmunn's Yanni of Suavere

Who has also given us:

GC Suavere's Kyrie

GC Suavere's Colors in the Snow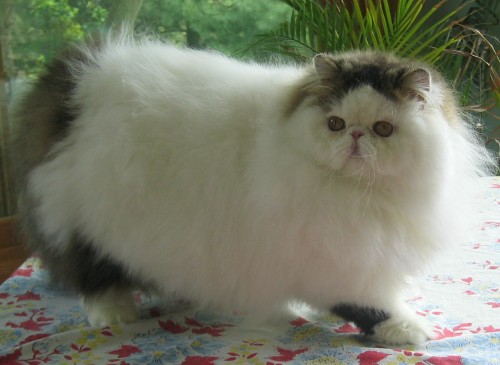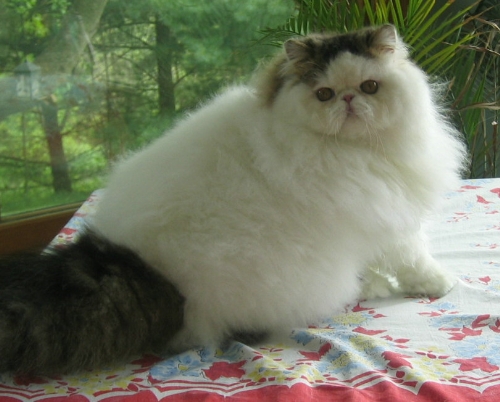 GC Suavere's Fudge Twirl

@ 10 months of age

Sire: GC RW Suavere's Bitafudge Cake

Dam:  GC Suavere's Autumn Sky